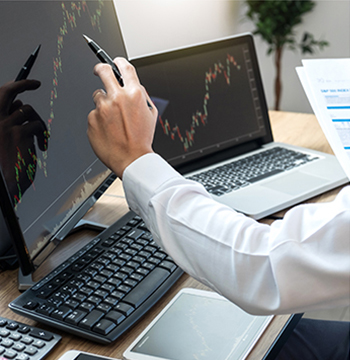 Wall Street seems to want you to believe that effective money management is "above your pay grade, and it should be left to the experts." This leads to a passive approach on the part of many investors, who offload key functions to large organizations that function as asset-gathering marketing machines.
In fact, "Financial Advisor" personnel despite fancy titles or offices are front-line salespeople who primarily function as actors who read a script to clients, and who "gather assets" and then pass them off to 3rd parties. The majority of Financial Advisors do not want direct responsibility for asset performance.
This yields a potential accountability problem for their clients.The challenge with this approach is that it's not particularly personalized because the actual money manager will rarely be somebody who knows you or somebody you've met. Also, this approach perpetuates keeping you in the dark, and doesn't create increasing levels of awareness and investor confidence in the choice-making process. This effectively leaves investors in kindergarten rather than the graduate school level.
We believe this antiquated approach is woefully out of touch with the needs of today's investors. Our clients always have timely and relevant information via smartphone app or web browser. Our robust client portal provides 24/7/365 access to a host of relevant details. We also provide personalized quarterly meetings and routine communication. Our clients are thus fully capable of gaining greater financial knowledge and effectiveness. With us, unlike with Financial Advisors and representatives of various discount brokerage organizations, all clients receive plenty of transparency. And, we are directly responsible for investment performance.
We are Fiduciaries, which means we are LEGALLY required to do what is in YOUR best interest. Financial Advisors are typically NOT Fiduciaries.
Using our Client Portal and Reports, you will always know your performance of each and every investment vs benchmark indices, along with intelligent risk assessment. No brokerage statement in the USA provides this level of informative detail, but our clients always have access to specific performance details. These are details that help clients more confidently perceive how their money under management is working.
Our investment approach involves screening capabilities covering nearly 50,000 publicly-traded securities. Utilizing our routine watchfulness, we pursue a safety net under each investment in your portfolio, which can help make it possible to prevent
your holdings from spinning out of control. This approach has been developed over decades of engagement with the highest levels of practical and theoretical methods available. We don't speculate or pursue "grand slam" investment returns. Rather, we pursue "singles and doubles" that can offer market outperformance in up-and-down market cycles. Plus, our asset management professionals have the same "skin in the same game" as you, following the exact allocations we recommend for our clients.
Given our routine watchfulness and advanced technology systems, we can direct client assets towards advantages that may be missed by those firms that "march in step" with less refined asset management approaches.