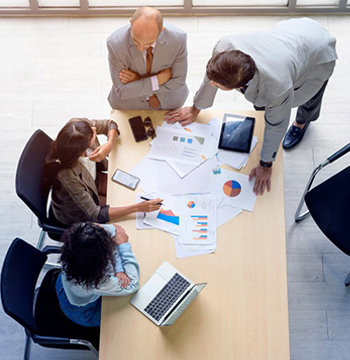 Life brings a range of financial questions that when answered properly can lead to long-term success. But when the questions are never addressed trouble may lie ahead and often does. Addressing questions holistically and developing a sound strategy includes:
Budgeting
Funding for retirement security
Children's education
Elder care
Special health needs
Optimizing taxes
Employee benefits
Properly handling transactions such as
o Major purchases
o Mortgages and loans
o Business Partnerships
o Estate and trust planning
o Determining proper investment risk and strategy
These should be answered but many people's responsibilities distract us from taking the time gain necessary overview. Financial Planning is the solution to this dilemma. We provide a suite of financial planning resources that begins with a careful assessment of your unique situation, and we map out a strategic plan to help you address your needs across time. However, beware because should a person have a CFP® Financial Planner designation, that doesn't guarantee they are the right choice to serve your long term needs.
Why?
This is because a large percentage of financial planners are engaged in commission- based sales activities. In fact, Financial Planning was originally designed as a technique to gain trust that will lead to the sale of life insurance or other high-commission financial products. This hasn't changed much despite the passage of decades and marketing of the Certified Financial Planner brand.
As Fiduciaries, we are able to remain more neutral because we make seasoned recommendations but not sales.